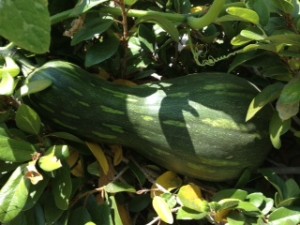 this is the offspring of the insane squash plant that is taking over the garden. a nice little winter squash you say?
italian pumpkins are similar to butternut squash and are good for making pumpkin fillings for pasta and gnocchi. i'm not a big pasta maker what with the wheatless-ness and all we eat corn pasta (like many italians apparently. the incidence of celiac in italy is one of the highest in the world. which should tell us something about the influence of wheat….)
even though it has been 95 degrees in los angeles, frank and i have been hankering for bolognese. so i made some.  the last batch of corn pasta i ordered from italy (la veneziane) but yesterday i found corn penne at trader joe's so we'll try that.
bolognese sauce
marcella hazan is the strictest cook i have ever encountered. that said, i am certain there are as many bolognese sauces as there are italians. i understand that emelia-romagna tried to codify the recipe some time ago AOC-style  but while sticking to the basic tenets i see space for some improv.  my brittle copy of THE CLASSIC ITALIAN COOKBOOK is usually my fallback when i want to do something by the numbers but in this case i have melded marcella with a recipe i once found in SAVEUR  years ago in which mario batali and a posse of foodies ate their way through italy (bliss.) his recipe was for spinach lasagna. i made it once and it was stellar.
1/2 butter 1/2 olive oil
one medium onion – finely chopped
2 carrots –  finely chopped
1 stalk of celery –  finely chopped
pancetta and/or ground pork
veal "stew meat" – minced (not too small)
whole milk
white wine
whole or crushed tomatoes
tomato paste
salt/pepper
dash of cayenne
whole nutmeg
saute the vegetables in butter and olive oil. season with salt and pepper and and a dash of cayenne which to me nicely offsets the sweetness of the sauce. add the pancetta and/or pork and the veal. when the meat begins to cook (but don't let it brown) add a cup of milk or so. cook  this down until it has mostly evaporated. add a cup of wine or so and do the same. grate and add nutmeg (i like quite a bit so i use about one and a half nutmegs.) add tomatoes (with juice) and tomato paste to make it a light red color. cook over low heat while you preheat the oven to about 300 degrees. rather than slave over the hot pot for 5 hours, i put the whole pot in the oven, uncovered, and leave it there. it should barely simmer. check it occasionally to make sure it isn't bubbling too hard or browning on top. i left mine in while we went to dinner and it was a bit brown and crusty on top. i could have scraped it off – underneath was amazing, sort of gelatinous bolognese sauce. but i mixed it in.
tonight i will get some fresh ricotta and throw it in with the penne, sauce and a good amount of reggiano. buon gusto.